From Brexit uncertainty to stamp duty and property raffles
From Brexit uncertainty to stamp duty and property raffles: the weird and wacky housing market trends of 2018
This was the year when you could win a luxury flat for a score, try-before-you-buy or even travel back in time…
The surprising housing market trends of 2018
Such is Britain's obsession with property that you can guarantee each year will throw up a selection of truly bonkers home sales, buying trends and pricing phenomena.
This year, amid a widely slowing market and stretched affordability, sellers have been finding novel ways to tempt buyers – from selling cheap tickets to win their home to letting people 'try before they buy'.
Here are the weird, wonderful and wacky highlights of 2018 property.
Property raffles
2018 was the year property raffles took off in earnest, as sellers struggled to achieve the prices they expected for their homes.
From F1 boss Eddie Jordan raffling a Tooting flat he was renovating, to a family offering £25 tickets for their Maida Vale mansion flat, sellers determined to achieve a certain price were turning to games of chance to raise more cash than they'd get on the open market.
Whether or not it'll work for the majority of them remains to be seen. Some rafflers have already fallen foul of a dearth of participating payment processing platforms; Gambling Commission rules; or a failure to drum up enough interest in their competition.
Time warp interiors
Among all of the contemporary renovations and ambitious extensions doing the rounds, it's easy to forget that some people's lives – and homes – remain resolutely in another era.
These "time capsule" properties have remained in the hands of the same families or owners for multiple decades. In Lincolnshire, a 1940s time warp house with a bomb shelter in the garden went up for sale with a guide price of £90,000 earlier this year, while this extraordinary Art Deco Essex house, virtually unchanged since the Thirties, went to auction in August.
Sea views – come at a price
A public toilet went up for sale for £400,000 in the trendy beach town of Margate, in Kent.
It was being sold with planning permission to convert it into a modern beach house complete with 'beach cave' right on the seafront.But the loo with a view can't compare with the Dorset beach hut which went on sale for a record-breaking £300,000, despite having no toilet or electricity.
'Try before you buy' homes
In London's troubled pre-Brexit market, potential buyers of mega-luxury mansions have been offered the chance to 'try before they buy' and rent the budget-busting properties before committing.
One of the biggest deals of its kind, a £76.5 million mansion opposite Buckingham Palace was rented out for £47,000-a-week – almost twice the average national salary.
Entire cobbled mews in Islington went up for auction
An entire cobbled mews street in Islington went up for auction in a once-in-a-lifetime sale, having been owned by the same family for more than 80 years.
The lot featured more than 20 buildings used as workshops or offices.
London first-time buyer deposits hit £115,000
Average house prices in the capital may be faltering but that didn't stop first-time buyer deposits hitting an eye-watering £114,952 in August, according to Halifax.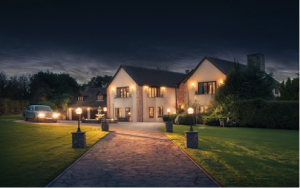 30.04.2019